Known for Fresh Cut Flowers
Get premium-quality blooms from Windmill Meadow Farm, a trustworthy flower supplier in Fredericksburg, TX. At our farm, we grow and harvest different varieties of fresh cut flowers. When you are looking for elegant and eye-catching flowers, our farm has what you need.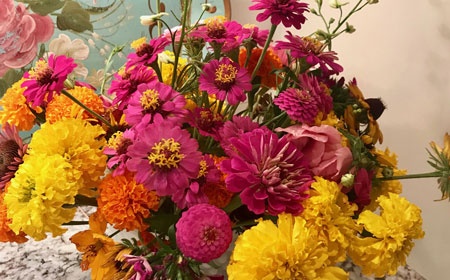 Make Windmill Meadow Farm your preferred flower supplier. We offer nothing but lovely, locally grown blooms. For your added convenience, we also deliver flowers. Just discuss your desired flower varieties and your destination, and we will handle the rest. Send an email now!
Fresh Cut Flower, Drop-off Subscription
$125.00 - $470.00
Fresh cut flowers from our Fredericksburg flower farm dropped-off at your office or on your front porch each week! Select from 5,10, or 20 week subscriptions. Subscriptions are excellent gifts that give all summer long. All purchases are confirmed with an email that includes an image to print for gift giving.
Monday or Friday drop-off service of mixed bunches available in a limited delivery area only in Fredericksburg, Texas.
Subscriptions available May through September.
Delivery areas: Fredericksburg city limits: out lying areas do have a delivery charge of $ 5.00.
Select from Monday or Friday delivery.
Customer satisfaction is fully guaranteed.
Home or business delivery.
Available in 5, 10, or 20 week subscriptions.
We drop a bouquet of mixed flowers into your bucket or vase each week.
Every other week delivery available upon request.
Deliveries can be scheduled around vacations.
Limited number of subscriptions available.
Subscriptions are closed when sold-out for the season.
We reserve the right to refuse certain delivery areas.
5 weeks of delivery is $125.00.
10 weeks of delivery is $245.00.
20 weeks of delivery is $470.00.
Members-Only Cut Flower Market
Market Opens May through September on Fridays from 9am to 2pm
You are now a member of our Members-Only Flower Market! We are looking forward to your visits and can't wait to share our beautiful cut -flowers with you.
Shares are used to purchase cut-flowers: A share works just like a gift card.
* Each Share is valued for at least $100 worth of flowers.
You have $_______ in Shares to spend!
* Market is open May through September on Fridays from 9am till 2pm
Flowers are harvested, conditioned and ready for pick-up.
* If these hours are not convenient for you, we are happy to leave a bouquet at the front gate for pick up after hours. Please call or email your order on Thursday for the Friday pick-up. Pick-up bouquets are usually $25 but we are happy to make them bigger!
* The season is May-September, weather dependent. We will email you when the market opens.
* Friends are welcome to join members to visit during market hours. Our private farm is not open to the public otherwise to sell or tour.
* Pre-made bouquets are available or you may purchase flowers by the stem to make your bouquet.
* You have 2 seasons to spend your share in its entirety.
Directions to the Market
1. From the Post Office take 87 North to Old Mason Road. It is around 3 miles.
2. Turn left on Old Mason Road, and go around 3 miles.
3. Then you will reach Sunshine Lane. Take a left.
4. The farm is the first gate on your left. The gate will be open at 9am.